The card for all your business expenses
Get the most from your new favorite corporate card –
VISA business. Limitless cards, limitless possibilities.
Order card
Pay in-store or online all over the world.
Make seamless contactless payments or withdraw your money from more than 20 million ATMs worldwide
Access, manage or instantly freeze the card online using your Online Banking account
Get as many cards as your company needs – limitless number of cards for one IBAN account
Add your ConnectPay VISA Business card to:
Get Your Full Custom Pricing Offer
These three simple questions will allow us to build the most suitable pricing offer for you.
Became a member of ConnectPay?
Order your card online.
Order a card
Order a card via Online
Banking
We ship the card
We'll deliver a card to your
location
Activate the card
Activate your card via Online Banking
Get your PIN
You'll get your PIN during card activation
Business & Segregated Accounts
Open a directly addressable LT IBAN account with multicurrency support ideal for cross-border payments in AUD, BGN, CAD, CHF, CZK, DKK, EUR, GBP, HKD, HUF, JPY, NOK, PLN, RON, SEK, SGD, USD.
Hold client funds separately from your company funds in our Segregated accounts. This feature utilises the fund safeguarding capability for regulated entities.
Enjoy the Omnichannel approach – access your accounts via our online banking platform or API.
Send & Receive Funds
Enjoy Instant EUR transfers via direct SEPA/SEPA Instant.
Send and receive money internationally with our cross-border SWIFT Payments in AUD, BGN, CAD, CHF, CZK, DKK, EUR, GBP, HKD, HUF, JPY, NOK, PLN, RON, SEK, SGD, USD currencies.
Cut costs and save time utilising multiple ways to send funds with us – single payments, bulk file uploads or via APIs.
Accept payments
Collect EUR payments from customer bank accounts in DE, FI, NL, and LT.
Automated reconciliation – reconcile payments automatically and effort free.
Create customized payment experiences with our Payment Gateway API.
Access the service out of the box with PaymentIQ.
Corporate Cards
Receive, spend and withdraw money in 180+ countries.
Make seamless contactless payments or withdraw your money at 20M+ ATMs worldwide.
Get a limitless amount of cards for one IBAN account.
Access, manage and instantly freeze your card online.
BaaS • Banking as a Service
Embed financial services into your product offering and channels – offer IBAN account, payments and cards to your customers, on your digital channels, seamlessly.
Utilise our licenses and technology to handle the regulatory and technical complexity, focus only on your customers.
Create your own financial products with our robust APIs.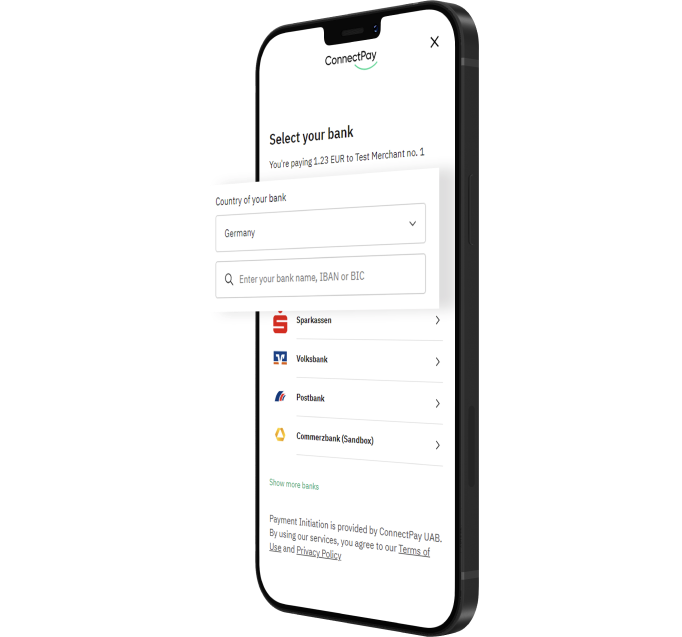 Get started now
Complete our easy application process and we will open your
multi-currency IBAN account to send and receive funds worldwide.